The Madison Branch of Building Restoration Corporation has been awarded the 2022 Historic Preservation Award from the Madison Trust for Historic Preservation. Our Madison branch won for their work on the 159-year-old Gates of Heaven Synagogue. 
See all the winners at the Madison Trust's Website.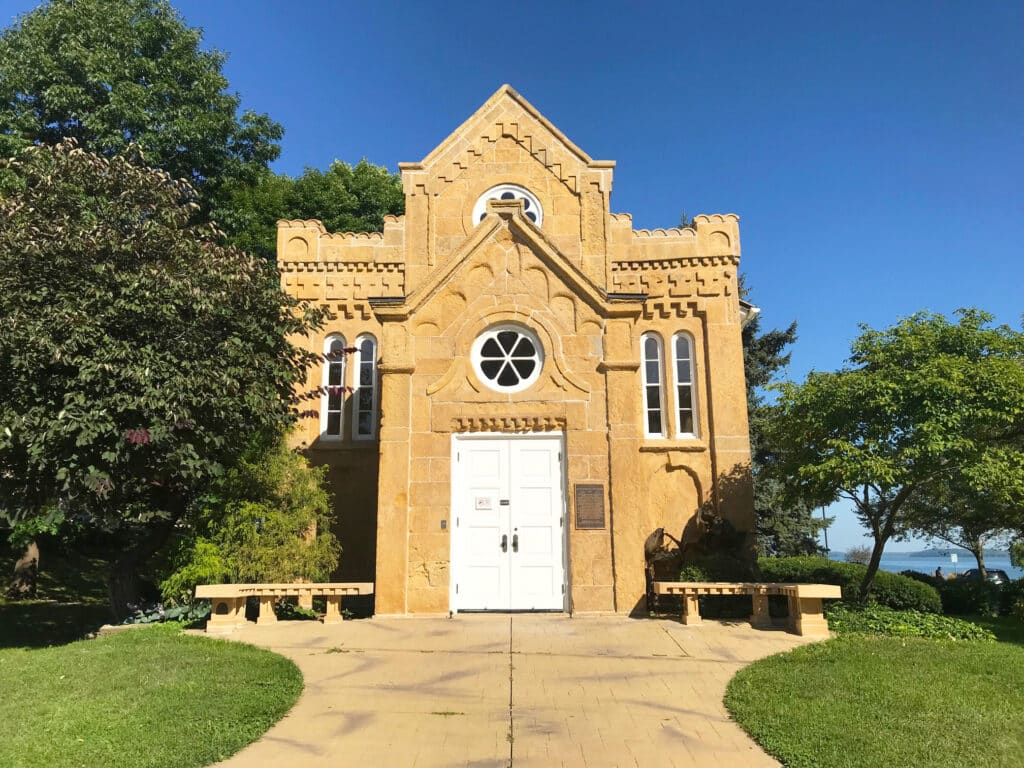 The Gates of Heaven Synagogue building was originally built in 1863. The same man who designed the Synagogue – August Kutzbock – also designed Wisconsin's second State Capitol Building. Gates of Heaven survives today as one of the oldest synagogues still standing in the United States.
After being threatened with demolition, the building was relocated from its original site on West Washington Avenue to James Madison Park in 1971.
The synagogue was built with a common sight in Madison; locally quarried Madison Sandstone. While a beautiful and relatively easily carved material, the soft stone, if not properly maintained, deteriorates faster than other materials.
With a building as old as this, the face of the stone had lost much of its original material. We first went to work preserving the material that was left. BRC then re-pointed the entirety of the synagogue, with a very specific mortar picked for the synagogue. Our masons tuck-pointed the building with Natural Hydraulic Lime (NHL) mortar, imported from France, and then mixed with a local sand. Using this mortar was necessary to ensure we could preserve the building's historic look.  At Gates of Heaven, the mortar joint was brush pounded to create the historically appropriate profile.
Our masons also spent time carefully cleaning the building, removing the decades of built up dirt and grime through our washing process.
BRC worked on the building from March to late June 2021.